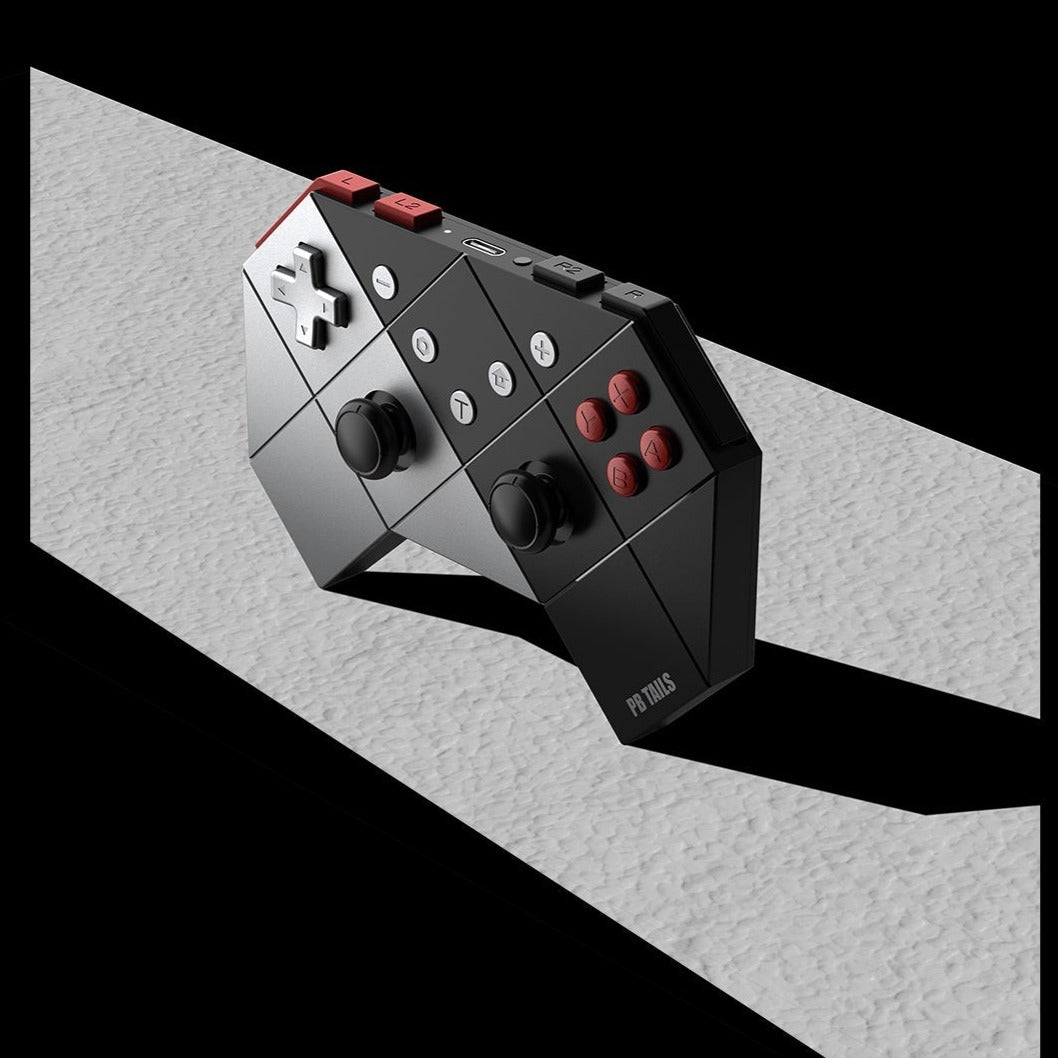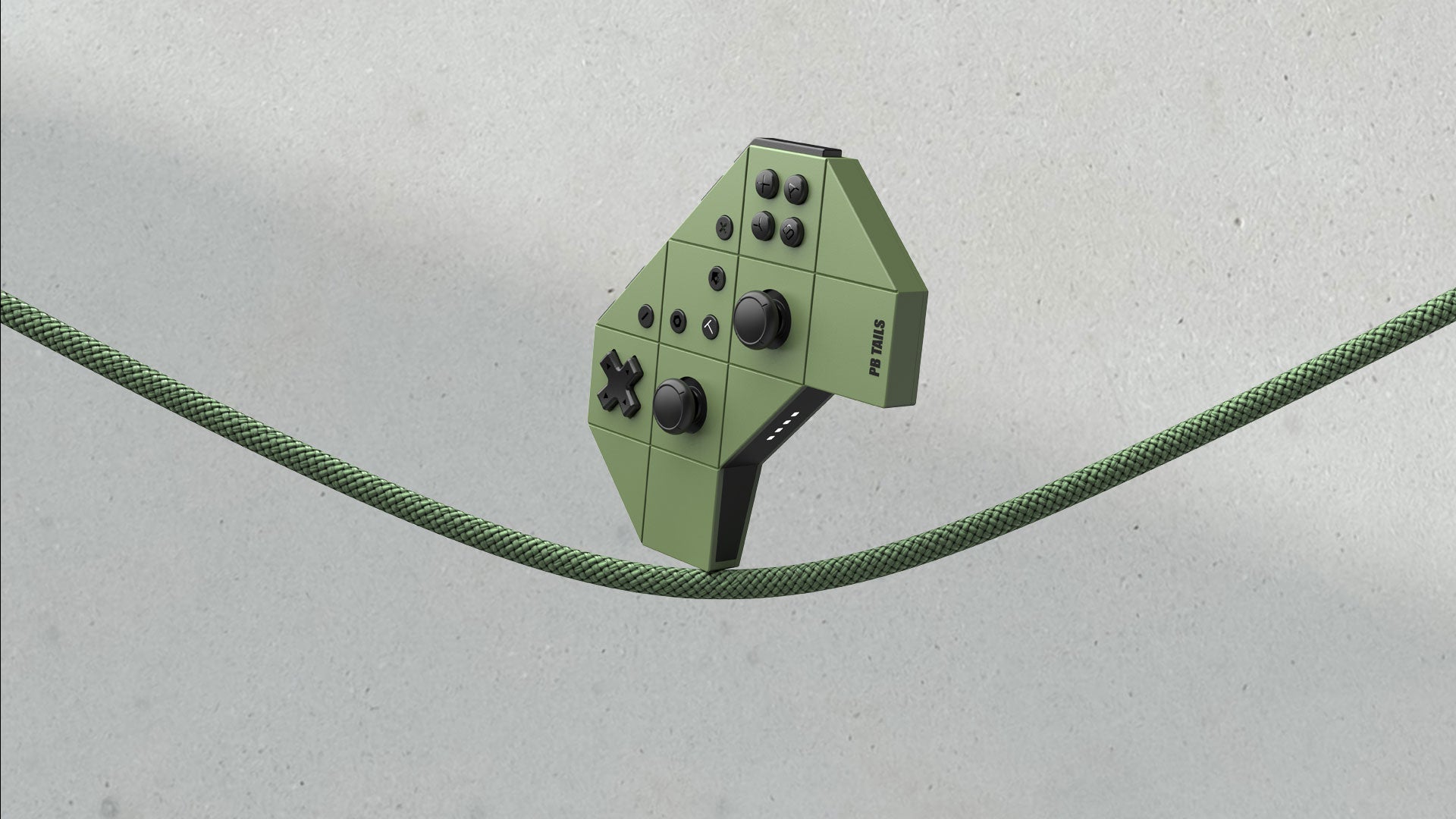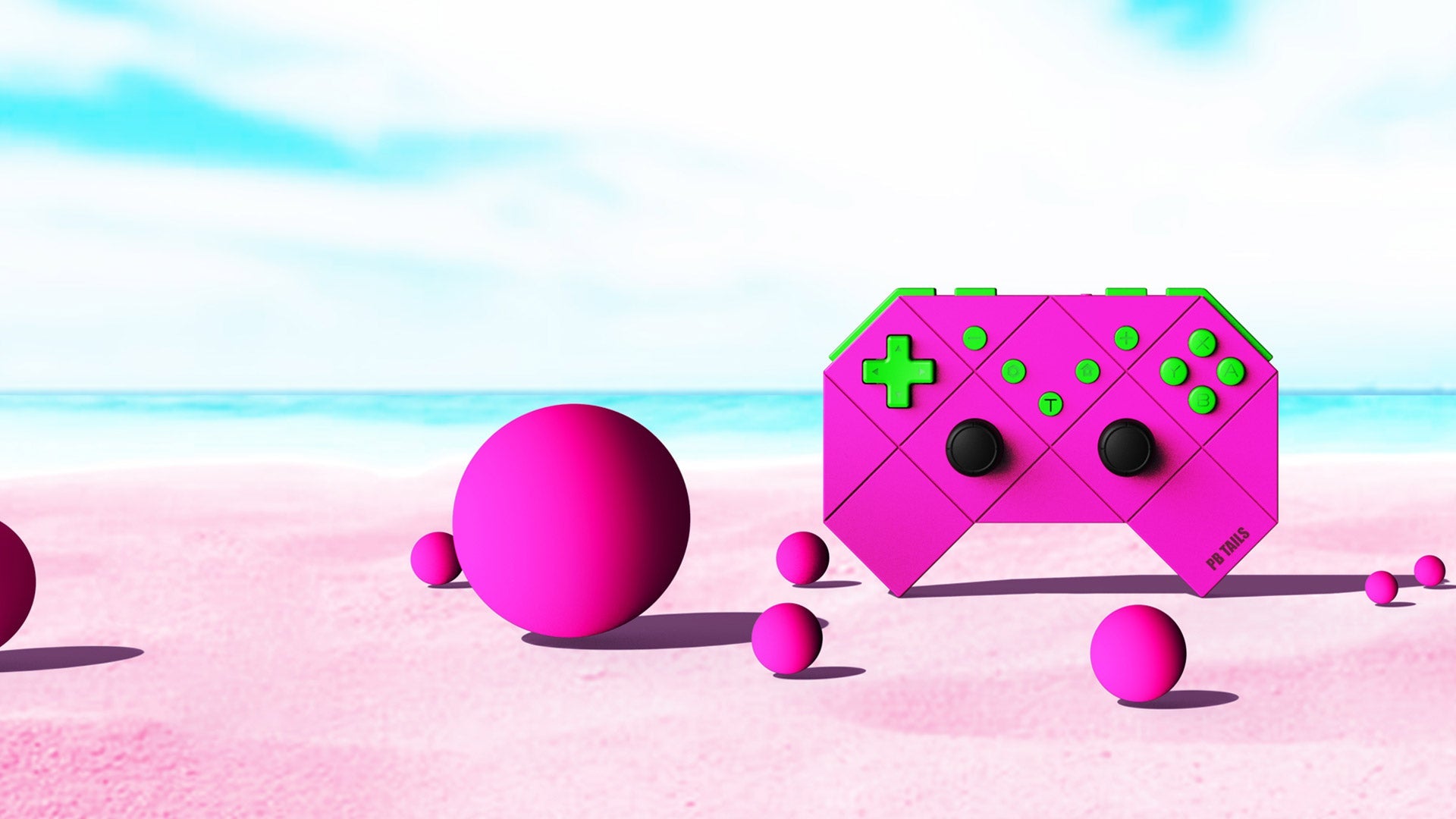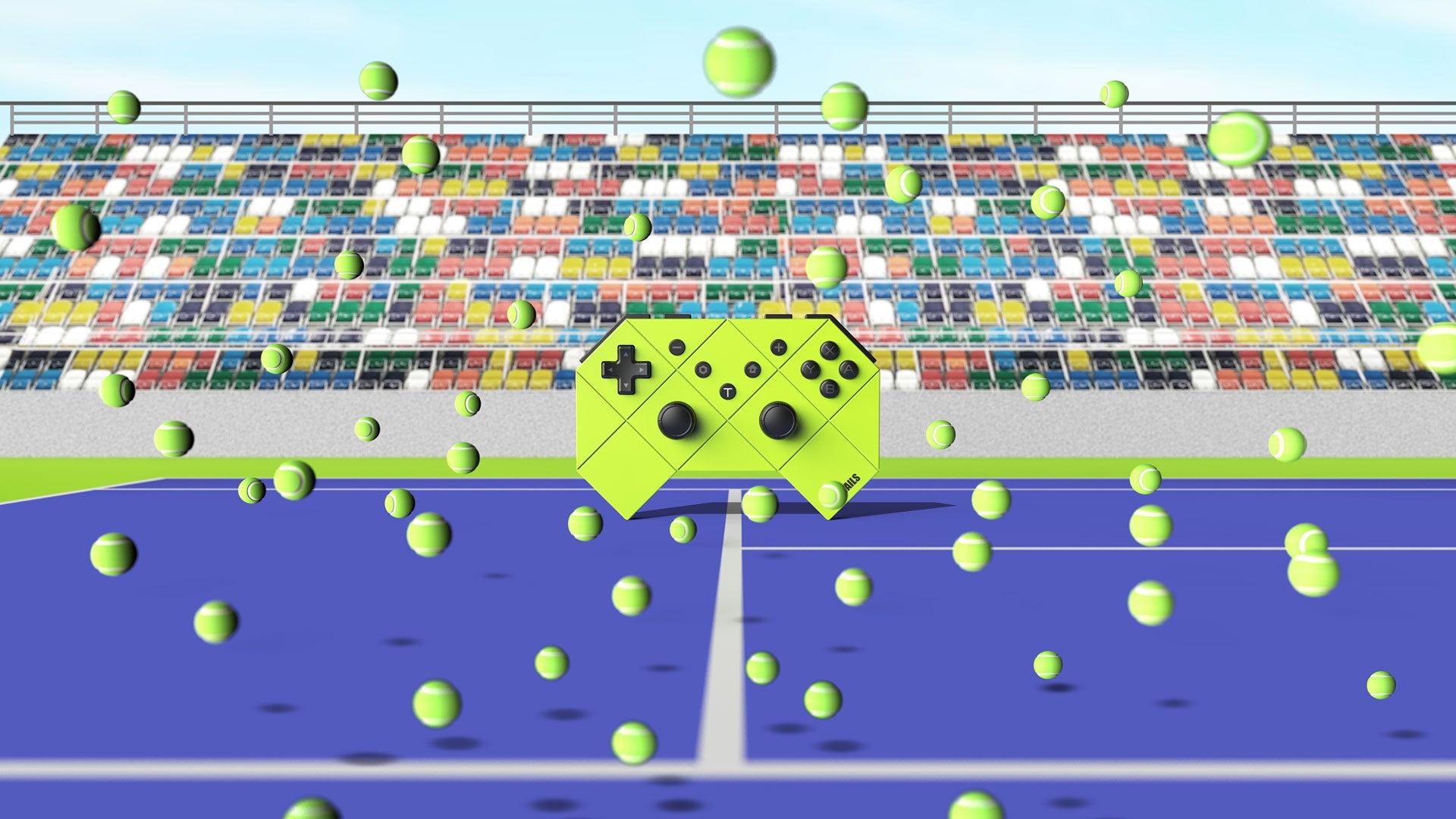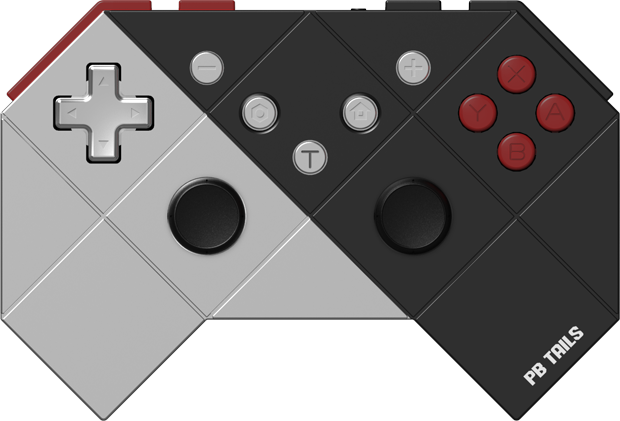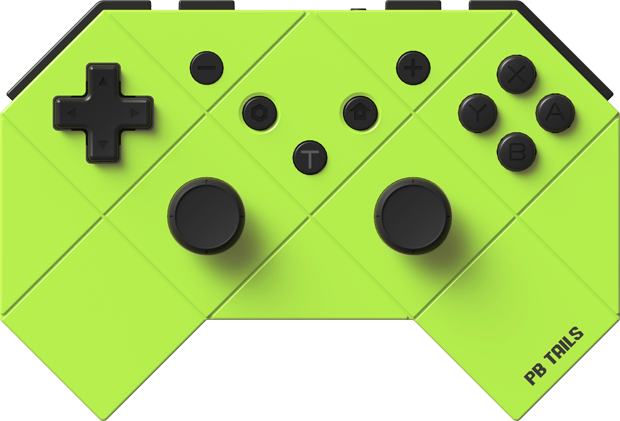 CHOC 1.0 Bluetooth Wireless Gaming Controllers
---
The PB Tails CHOC Wireless Gaming Controller is crafted with shaped edges and extremely straight lines. CHOC is perfectly designed to work seamlessly with a variety of platforms, including PC, Switch, Steam Deck, and Raspberry Pi.
🎮 Compatible with Multiple Devices
Works flawlessly with your PC, Windows, Steam Deck, Raspberry Pi and Nintendo Switch (V1, V2, Switch OLED, and Lite). Play your favorite games like Super Mario, Splatoon 3, Animal Crossing and more. 

🎮 Take Anywhere. Be Ready Anytime.
The CHOC Controller is stylish and portable. It's the gaming sidekick you can carry with you anywhere.

🎮 Six-Axis Motion Control
Equipped with a built-in 3-axis gyroscope and 3-axis acceleration sensor, our gaming controller gives you complete & precise control.

🎮 Immersive Vibration-based Play
Using asymmetric vibrating motors connected to the 2 claw grips. Enjoy precise vibrations that react independently with any in-game mechanics.

🎮 Turbo-mode
Don't be doomed with slower firepower! No need to multi-tap, just press and hold the button for automatic rapid-fire!
Knight Warrior/Sakura Warrior/Wukong = Zinc alloy and Polycarbonate shell.
Zozo/Mr. Wulong = Polycarbonate shell.
All contain Lithium-ion battery.
4.72in x 3.15in x 0.91in

11.99cm x 8cm x 2.31cm
📦 Free Shipping on all orders in the USA

📦 Free Shipping Worldwide on orders $60 or more!

Couldn't Find Your Country?

If you could not find your country, then that means that PB Tails does not currently ship to your country yet. We thank you for your support and look forward to the time when we can also ship to you. 
1 x Bluetooth Controller

1 x USB to Type C Charger Cable (about 1m in length)
Use a soft dry cloth or damp cleaning cloth to clean the controller.

However, please DO NOT use solvents, including gasoline, thinner, alcohol, kitchen detergents, chemical wipes, etc., as chemical solvents may cause exterior deformation or layers to fall off.

At the same time, do not use a very wet cloth to wipe the controller, as it may lead liquid getting inside and causing internal damage.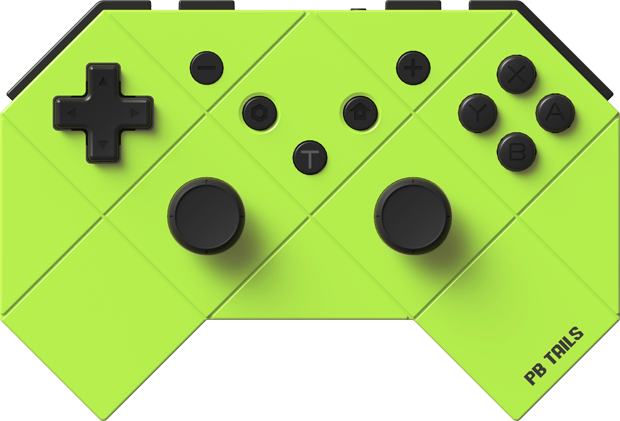 For PC / Switch / Steam Deck / Raspberry Pi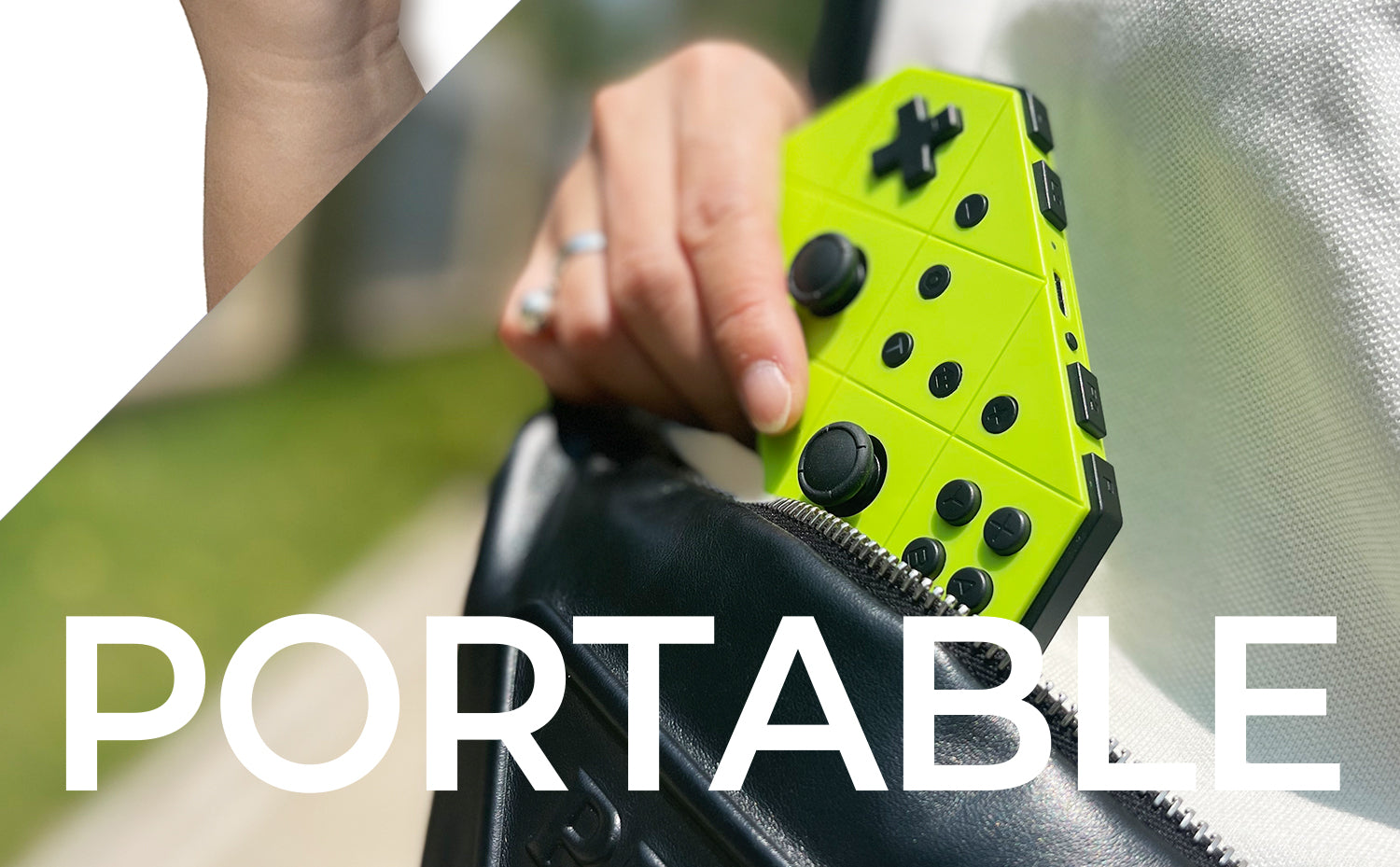 01
Take Anywhere. Be Ready Anytime
The CHOC Controller is stylish and portable. It's the gaming sidekick you can carry with you anywhere.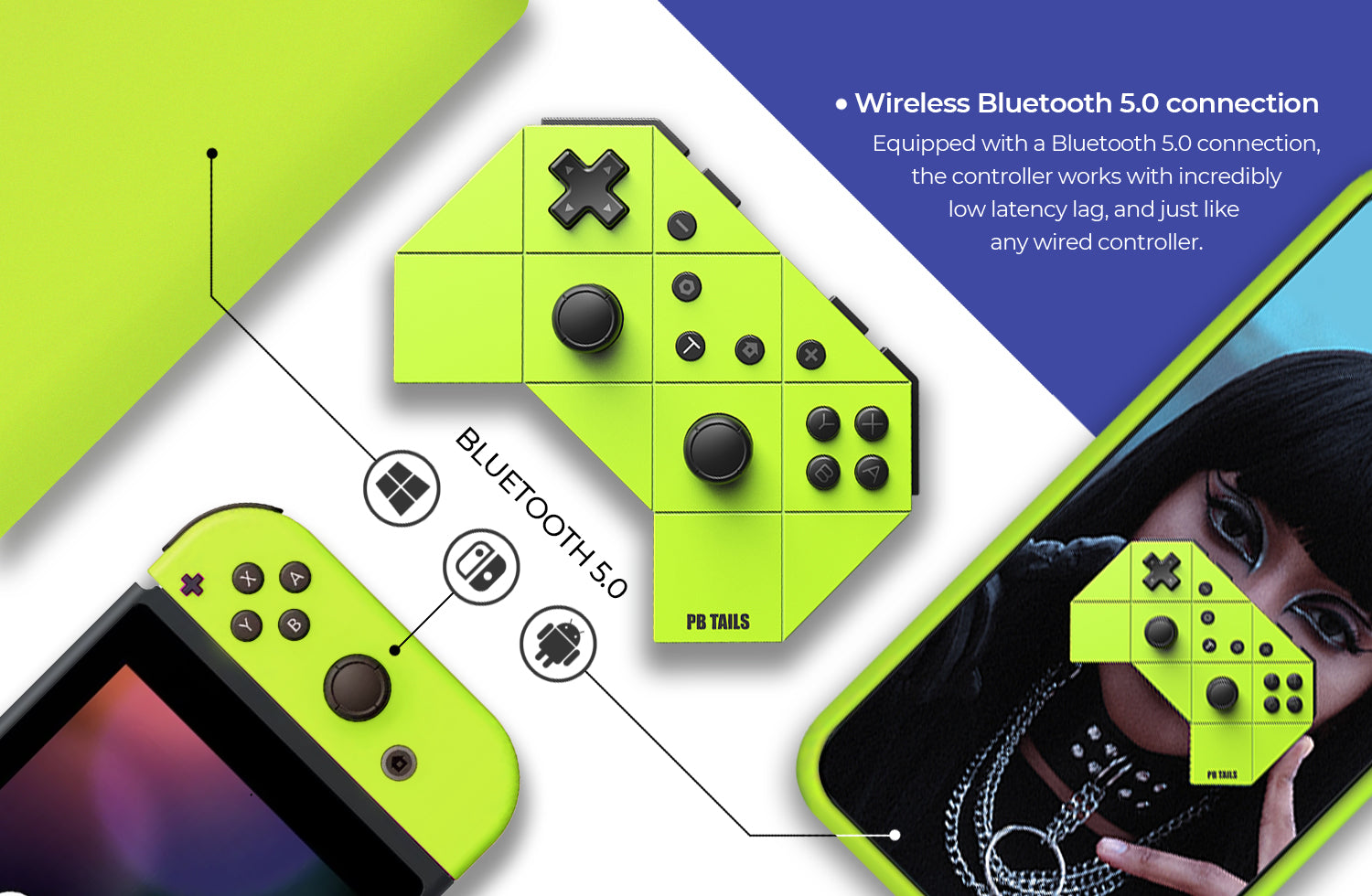 02
Compatible with Multiple Devices
Works flawlessly with your PC, Windows, Steam Deck, Raspberry Pi and Nintendo Switch.
01
Take Anywhere. Be Ready Anytime
The CHOC Controller is stylish and portable. It's the gaming sidekick you can carry with you anywhere.
02
Compatible with Multiple Devices
Works flawlessly with your PC, Windows, Steam Deck, Raspberry Pi and Nintendo Switch.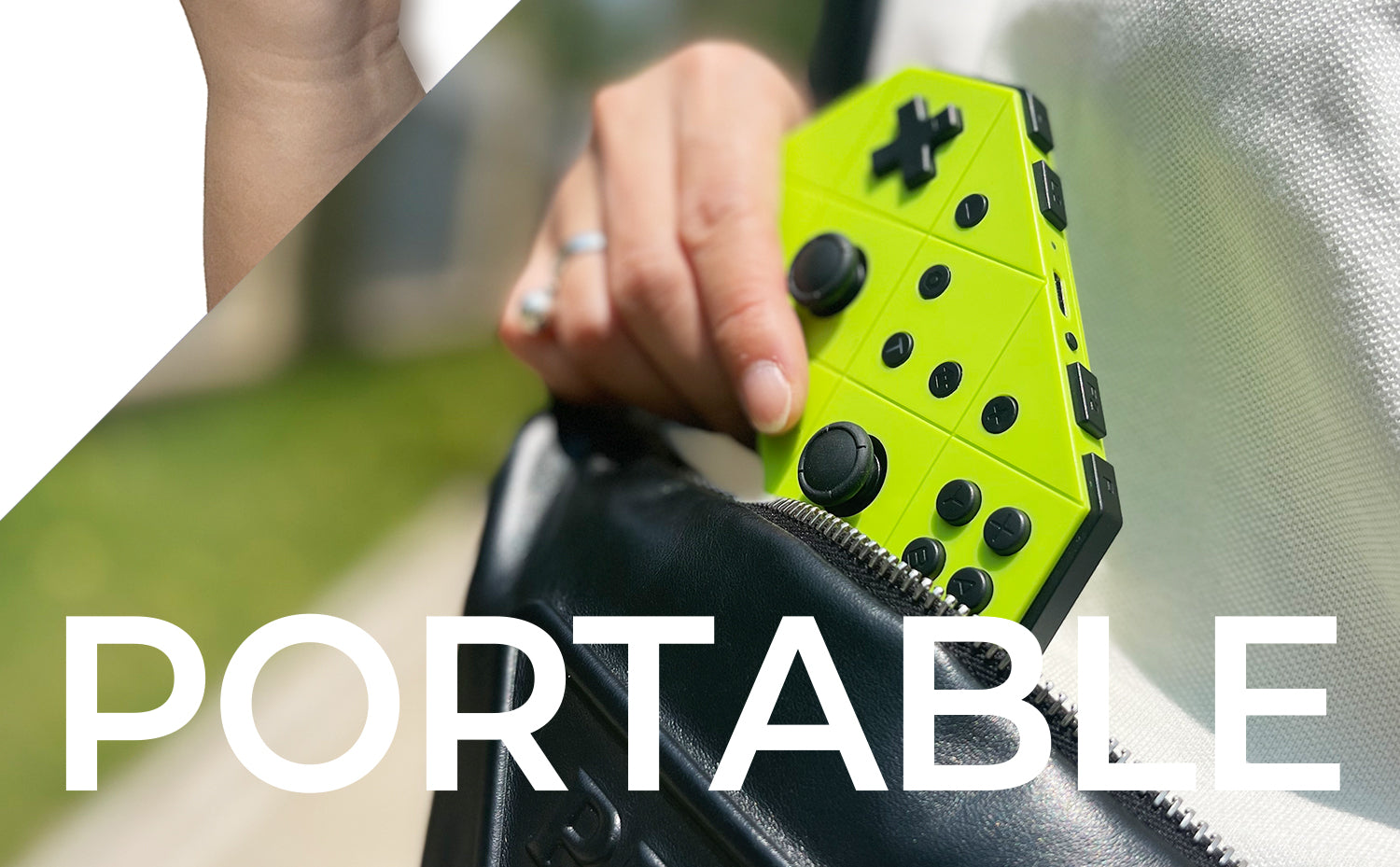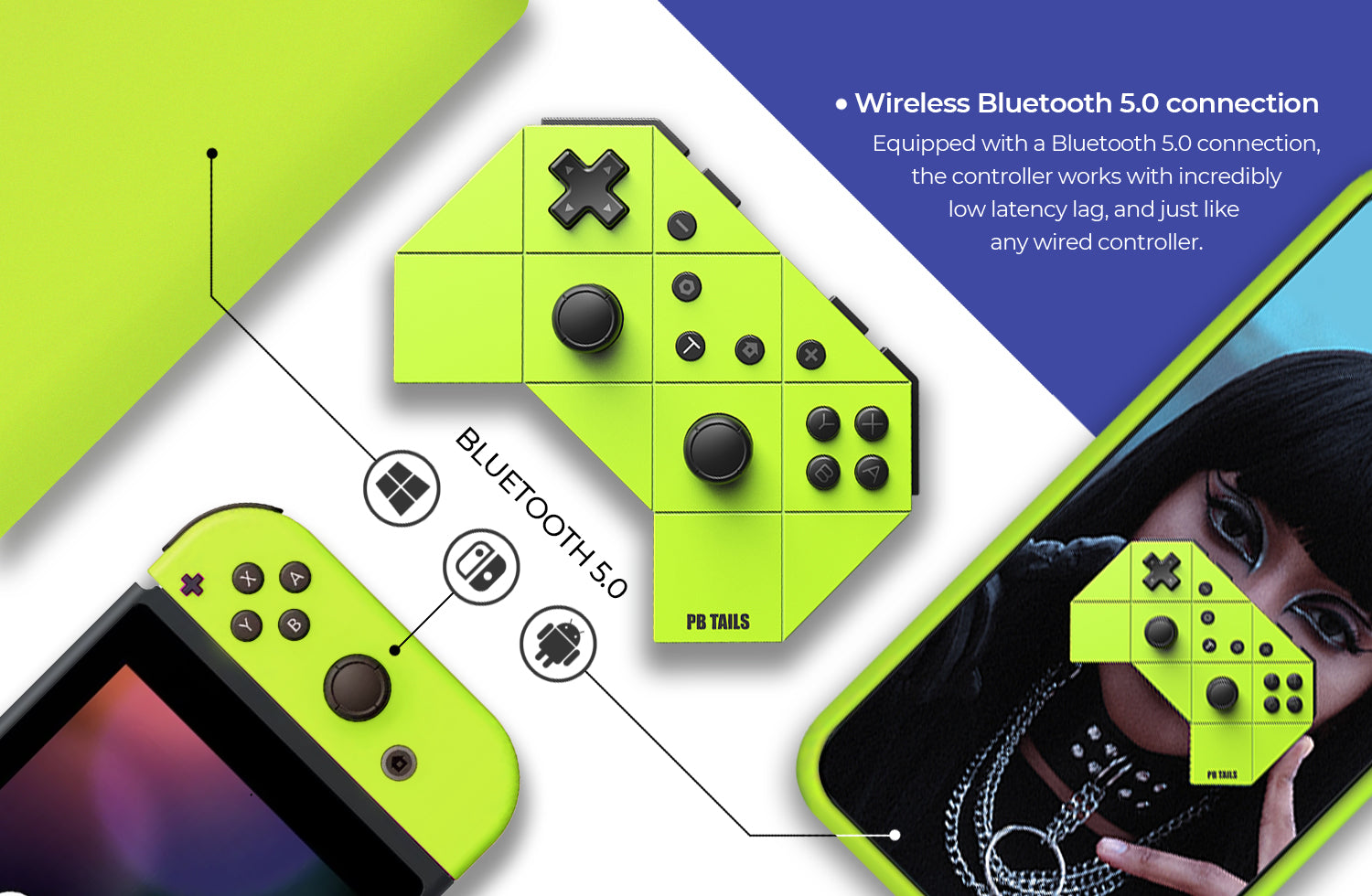 Cool Looking Retro Controller
This is a nice cool looking retro Controller. It feels comfortable in my hand. It was easy to set up and the vibration function works well. It is very light weight and has a nice feel to it. The buttons are not sticky at all and there is no lag when playing. The connection to the switch was fast and easy. The carry case is nice and cool looking. It comes in handy when travelling.I will definitely need another one for my PC.
Wireless Switch Controller
The Wireless Switch Controller works with Switch OLED nicely. There are several things I like about it. It has a futuristic look. It is light weighted. The vibration function is cool. On the other side, there are also several thing I don't like about it. The grip is not as good as my other controllers. The key setup is a bit different from other controllers. It takes a bit time to get used to it but it's not a big deal. Overall, it is really not bad but I prefer a more traditional controller. Also it's a bit pricy.
Compact beauty of a controller, bad d-pad.
Nothing in the seller description really prepared me to discover how small and svelte this controller is.Not only are the hard angles and colour scheme inspired by an NES controller, it is actually as wide and thick as an NES controller too! (see photos).This would be a great "pro controller" to take with you while traveling, it easily fits into the accessories portion of my Nintendo Switch carry case.My partner, who is not a gamer and, never remarks on my dozens of video game controllers, saw this one sitting on the table today and said "Wow is that the new one? It looks interesting!"It's an impressive display of technology considering this tiny wireless controller has a full-set of buttons, twin analog sticks, motion-controls, and non-HD rumble motors. The only thing missing is NFC (amiibo) functionality.The bluetooth connection is strong and very effective, with no dropped inputs during my testing. I think it is a better wireless connection than official Nintendo Joycons.How it this tiny thing ergonomically? Not bad actually!I played with this controller for 5 hours straight today, trying out many different games, and even though it is a very cozy fit for two hands, the 135 degree angles don't bite into your palms like the 90 degree corners of an NES controller.Your fingers rest naturally on the L/R trigger sets, and your thumbs feel at home either on the d-pad or analog sticks.If you're coming from an official Nintendo Switch Pro Controller, the +, -, Home, and Screenshot buttons are all exactly where you would normally reach for them.I really like the subtle white LEDs for the connection indicator lights, and I appreciate the symmetry of the design.I've been looking for a small controller like this for a long time - something with the small, clicky and rapid buttons of a Joycon, but in the "playstation arrangement" with the analog sticks side-by-side.The only thing I would change is to substitute 4 buttons instead of a d-pad, like on a Joycon.If they offered the option of 4 buttons instead of a d-pad, this would be the perfect controller for rhythm games like MUSYNX or Xonic: Superbeat.The rumble functionality is very strong, and LOUD on the higher settings. There are four settings for rumble strength (Off, low, medium, high) but low is the only good setting imo.Unfortunately the controller does not remember your rumble setting after it powers off. The default setting is medium.Changing it to low by pressing "Turbo" and "-" is easy enough, but annoying to do it after every snack break when the controller decides to disconnect for power saving.So how does it play games? Unfortunately it is a mixed result. I'll break these down by genre:RHYTHM GAMES: Fantastic controller for rhythm games like MUSYNX, Pianista, and Xonic. I set lots of new high scores!!First reason is due to the solid wireless connection that doesn't drop the rapid inputs these games require.Second reason is that the travel of the buttons is very quick and precise, plus the distance between the buttons and analog sticks (for Xonic) is absolutely minimized by the small size of the controller.Third is that the buttons are so small, it is very easy to hit a combo X/A and Left/Up with one thumb when those commands are necessary in MUSYNX or Pianista.As I mentioned above the only thing I would prefer is that the d-pad would be 4 buttons instead of a d-pad, specifically for the benefit of these types of games.2D PLATFORMERS: I know the first impression a lot of people will get when they look at this controller is that it looks great for NES and SNES games, or any other 2D game. Unfortunately, the weakest aspect of this controller is the D-pad, and it's a deal breaker.While it works OK for discrete one-off clicky inputs like scrolling a menu in an RPG or playing a rhythm game, it has a severe problem with what I'll call "stickiness" while holding down in one direction.As an example, while playing Super Mario World or Super Mario Bros, it is very difficult to stop running right and make a quick turn to the left to avoid danger. What usually happens is that your right-input keeps going for a 1/2 second longer than you wanted before the d-pad finally "unsticks" and registers the left-input. This 1/2 second delay will kill you many times, and further corrections don't get any easier.2D FIGHTERS: Another great test of a D-pad is a bit of Street Fighter.Once again, because of the stickiness mentioned in the 2D platformer section, quarter-circles and half-circles are nearly impossible to execute. Especially because the down-direction of my d-pad is even stickier than left or right.I'll be furiously trying to do a forward-right quarter-circle, but my character stays crouched through the whole motion. The stickiness actually makes doing a hold move like "Spinning Bird Kick" easier than I'm used to, but that's no good if we can't do a simple "Hadouken" if our lives depended on it.3D PLATFORMERS: Once we start playing a game that doesn't require the D-p...
Utterly surprised
To be truthful I don't expect much from Chinese companies because they usually make cheap products and a cheap product is what I was expecting started off bad because it wouldn't connect via Bluetooth so had to connect using the dock and Bluetooth works after that played a few games while on the tv but even the OEM cons suck at that so don't fault them for that but after playing it with just the switch I was honestly surprised no lag extremely comfortable , buttons well placed played Skyrim gta even more button intense games like smash and MK completely obliterated everyone online in MK never done that with the OEM joy cons because my hands would hurt and I have medium hands , everything makes this controller worth it now idk if this is a final product or something they want to see how it sells but only things I don't like is the vibration they use cheap motors and it makes that rattling noise and the plastic they use is eh I prefer smooth like oem joy cons but I'd definitely recommend this controller to anyone unique design and if they ever put out a upgraded one in the future I'll definitely buy also does not connect to iOS connects to android os and yes you can remote play your Xbox or playstions so for 30$ you can't complainEdit: returned because the vibration started to hurt my hand you can turn it off but I'm deaf and like the vibration it also vibrates for every action you take in the game will buy again but I'll probably buy the actual switch controllers just because they have HD vibration
Sick little side piece. Easy to connect great for a back up. Heck I got some for the kids as well
The media could not be loaded.